A little late here....I got it. Things have been CRAZYbusy round here lately...as they get at the end of the school year...so better late than never I suppose.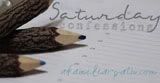 1. I pitched a full blown grown up fit on my family Friday night. I had a fun evening planned and every idea I suggested my 5-year-old vetoed. Every. Single. Thing. After a long st.re.ss.FUL week....I was kinda at my wits end! He and I have been doing this dance a lot lately....he pushes....I get frustrated....he gets frustrated and melts down and I lose it. He and I had a LONG (for a 5 year old) talk on Saturday and things seem to be better now.
2. I just got offered a ticket to Relevant and although I'm terrified and have no idea what to expect....I think I may take it!
3. This is my last full week of school and I'm SOO excited and exhausted just thinking about it. Some poor unfortunate kiddos have to retake end of year tests so the rest of us are just hanging out all week. It's just a step away from mass chaos most of the time.
4. My husband has been obsessing over his Jeep lately. He and I are supposed to take it camping this weekend...but it's currently not running so we'll see. He's been pretty aggravated with it and I feel terrible about it but can do NOTHING to help.
5. I have BIG plans for our summer break...some of which will never happen...which is totally cool cause that's what summer break is for :) Most importantly I just wanna hang out with my kids. Sleep in. Swim. Read. REST. Make the dark circles under my eyes go away. Maybe do a Bible study with some girls at church. Read. Sew. Thinking of making a list with the kids to hang up in the house. Have y'all ever done that?
Ok, cause it's really Monday and not Saturday, I've gotta get moving. Have a great week!