Forever and 42 days ago (or so) I wanted to open my own shop. You may have heard me mention it ;) 6 weeks ago I started this: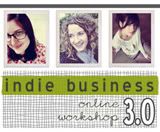 (one of the COOLEST things I've ever done...and I'm still working on)
and today the dream is real. Like really real. HOLY COW REAL!
Here's the link to my brand spankin new shop:
Welcome, make yourself at home. Check out my wares.
A dream I was scared to dream....but thankfully, I did it anyway.
And while you're there, checking out my digs....go check out my new friends' digs too.
Here you will find a list of a BUNCH of new shops that are stepping out with me today to celebrate dreams coming true! You'll also find some AWESOME new blogs, some FABULOUS giveaways and LOTS MORE!
Thanks SO much for reading my random thoughts daily (or weekly or monthly or whenever.) I love that you're here and hope you'll stay a while.